When the evenings are long enough, racing is on Tuesday evenings. When the evenings get shorter, the racing moves to Sunday mornings. There are series every month and a few regattas throughout the year. Some of these are also open to non-members and we love to welcome visitors. Our modern clubhouse facilities lend themselves perfectly to hosting visiting sailors.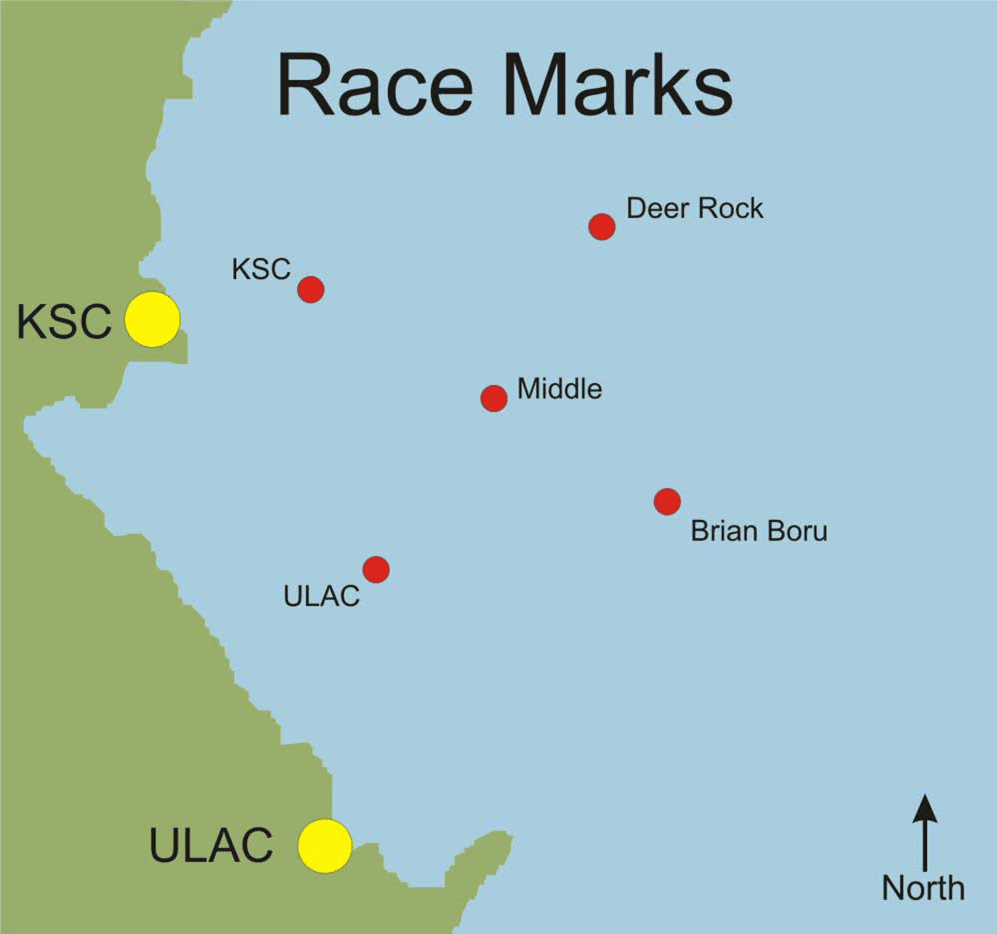 The regular fleet at Killaloe Sailing Club includes single-handed lasers, in addition to double-handed RS 200s, RS400s, Fireballs, Visions, Fevas, Picos, Zests, and others. Any single-hulled dinghy is welcome. The club operates the 'Portsmouth Yardstick'  handicap system, known as PY, in order to be competitive no matter which class of  Dinghy you use. If your appetite for racing becomes bigger, you will find you will seek a boat in the faster boat classes, such as RS , Fireball or Laser. As well as being competitive on the water, club racing is generally good fun and very social.
New to Racing?
For those who are new to Racing the following might be useful:
What rules should I know?
A boat on Port tack (where the wind is coming from the left and the boom is on the right) gives way to a boat on starboard tack (wind from the right and boom on the left), ie. Starboard has right of way.
A boat on Starboard tack with right of way may shout "Starboard" if you are on Port tack and they think you are about to get in their way and collide.
A boat to windward (closest to where the wind is coming from) gives way to a boat to leeward (the boat further away from the wind).
At a mark, the boat on the inside, nearest the mark, will usually need to be given room to round the mark without hitting it or you! This is where you can call "Water at the mark!"
The aim of these basic rules is to prevent collisions.
The Race Officer will set a course and will brief you on the day.
A typical course is a race around the three buoys in the designated sailing area with the start/finish line between the committee boat (RIB with the Race Office and flags in it) and a buoy.
The starting sequence is as follows:
5 minutes to start – hoot of horn and 1st (warning) flag up.
4 minutes to start – hoot of horn and 2nd (preparatory) flag up. This will be a blue flag with a white square in the centre.
1 minute to start – hoot of horn and 2nd (preparatory) flag down
The start – hoot of horn and 1st flag down. The race is on!
Sail back across the start/finish line to finish the race after completing the course set.
Here are some helpful video links. YouTube has a wealth of useful videos from various sailing bodies, including the RYA and ISA.