The confidence and skills gained by those advancing to Instructors is wonderful. Many progress after working a few Summer Camps at Killaloe Sailing Club where they acquire great experience, before heading off for nicely paid summer work in the US and continental Europe at activity centres and sailing clubs.
Following Irish Sailing's 'Small Boat Sailing Scheme' path, Killaloe Sailing Club provides coaching for the Pre-Entry assessment for Sailing Instructor courses. The Pre-Entry courses are generally held at the club with a minimum number of candidates. We also facilitate organising these courses at other Irish Sailing centres depending on demand at any one time. For other Sailing Instructor courses, please enquire with us, and we can help put you in touch with a centre that provides this.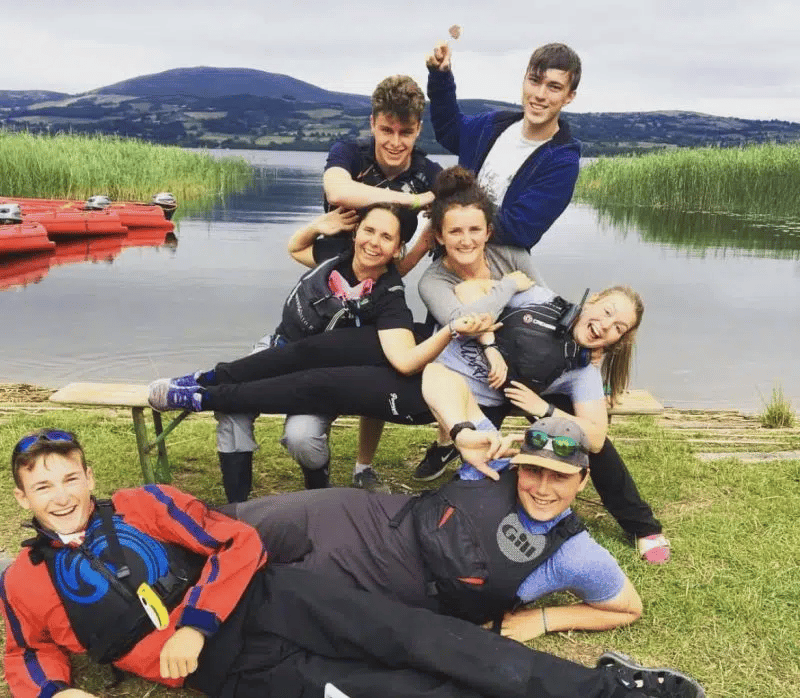 What is the Irish Sailing Instructor Path?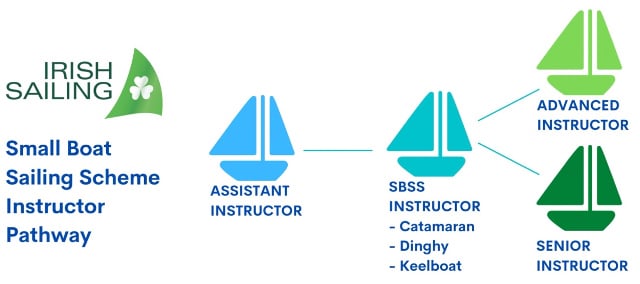 Pre-Entry Level
The Pre-Entry assessment comes in three parts:
On-the-water assessment
Knots assessment
Written paper (can be completed orally if required – sample papers here)
To give you an idea of what is involved, the 'On-the-water' skills assessed include:
Rigging
Launch and Recover
Follow the Leader
Sail a Triangle
Rudderless
Manoeuvres
Coming Along Side
Picking Up A Mooring
Man Over Board
Tight Circles
Capsize
Knots
What next (after the Pre-entry)?
The next step is attending a Sailing Instructor course
In order to attend any Sailing Instructor course, it is necessary to ensure you have all of the pre-requisites to attend. To give an overview, these include:
Pre-entry certificate (pass).
Minimum age 16.5 years to attend a course.
Irish Sailing National powerboat certificate (NPC) endorsed for tiller and console.
20 hours of powerboat experience logged after completing National Powerboat Certificate.
Current first aid certificate (8 hours minimum course duration, covering CPR and hypothermia).
Irish Sailing Garda vetting
Sport Ireland Safeguarding
Assistant Sailing Instructor
Assists the Instructor in the delivery of sailing courses.
It is not essential to do this course if you wish to do the Sailing Instructor course.
Pre-requisites include:
Minimum age 15 years.
Hold one of the following certificates: Advanced Boat Handling, Kites & Wires, Adventure Skills or Start Racing.
16 years plus, require Garda Vetting through Irish Sailing.
16 years plus, require Sport Ireland Safe Guarding 1.
Sailing Instructor
Instructs and assesses Taste of Sailing, Start Sailing, Basic Skills, Improving Skills.
Pre-requisites include:
Minimum age 17 years.
Dinghy SBSS (Small Boat Sailing Scheme) 'Pre-Entry Practical Guidelines' completed within last 12 months.
Valid Emergency Care Certificate from approved course.
Garda Vetting clearance.
Sport Ireland Safe Guarding 1.
Irish Sailing National Powerboat Certificate (Level 2). Endorsed for both tiller and console controls; with 20 hours power-boating logged following certification.
Advanced Instructor
Instructs and assesses Adventure Skills, Kites & Wires, Start Racing and Advanced Boat handling.
Senior Instructor
Supervises and manages sailing courses.
Instructor Training
Trains and assesses sailing instructors.
To register interest in Sailing Instructor Training, please email: training@killaloesailingclub.com
For more information on 'How to become an Instructor' see:
https://www.sailing.ie/Training/Instructors/Get-Qualified
Irish Sailing Instructor courses offers more details on each course.